These Double Chocolate Chunk Brownies Are Everything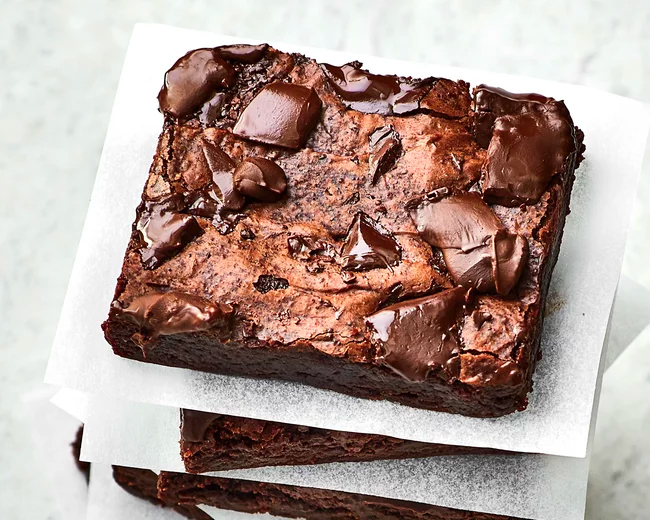 We love a good brownie at Food & Wine. They're rich, chocolatey, and filling, a truly comforting dessert we can't get enough of whether they're eaten plain or garnished with a generous scoop of ice cream. And if you're looking for a new recipe, pastry chef Lee Lee Reid's double chocolate chunk brownies from Nathaniel Reid Bakery tick off all of those boxes and more. You only need 10 ingredients, and everything comes together in three steps. As you read through, it may seem like there's a lot of extra work—the sifting, the melting, the resting period. But all of these little things add up to big flavor and the ultimate brownie texture, a cakey-fudgy hybrid.
Read on for our key tips to making these tasty brownies, compiled from the recipe and the Food & Wine Test Kitchen.
Before You Take Out a Bowl, Preheat the Oven
Setting the oven to 350F well in advance ensures even heating and temperature.
Use Good Chocolate…
Brownies are only as good as the chocolate and cocoa you use, so Reid likes to use Dutch-process cocoa powder and dark chocolate wafers (aka jumbo-sized, flattened disks of baking chocolate) from brands like Valrhona. (Check out our guide to the best chocolate in the U.S. for more recommendations.)
ADVERTISING
Ads by Teads
…Or Sub in Chips in a Pinch
Chocolate chips tend to have stabilizers in them, which can affect the taste and meltability, so wafers or chopped chocolate bars would be your best bet. But if you can't find them, chips definitely work.
Light Brown Sugar Can Work, Too
Dark brown sugar has a higher molasses content, and is therefore slightly more acidic, so it will react like baking powder or baking soda and create optimal texture for the brownies. But if you only have light brown sugar, that works, too.
Sift the Dry Ingredients
Sifting together the flour, cocoa powder, and salt removes any clumps and also ensures everything is evenly combined.
Melt the chocolate
Either a double boiler or the microwave will work here. If you decide to microwave, make sure you heat the chocolate in short bursts, stirring in between each session, so it doesn't burn.