Amazing Cheesy Recipes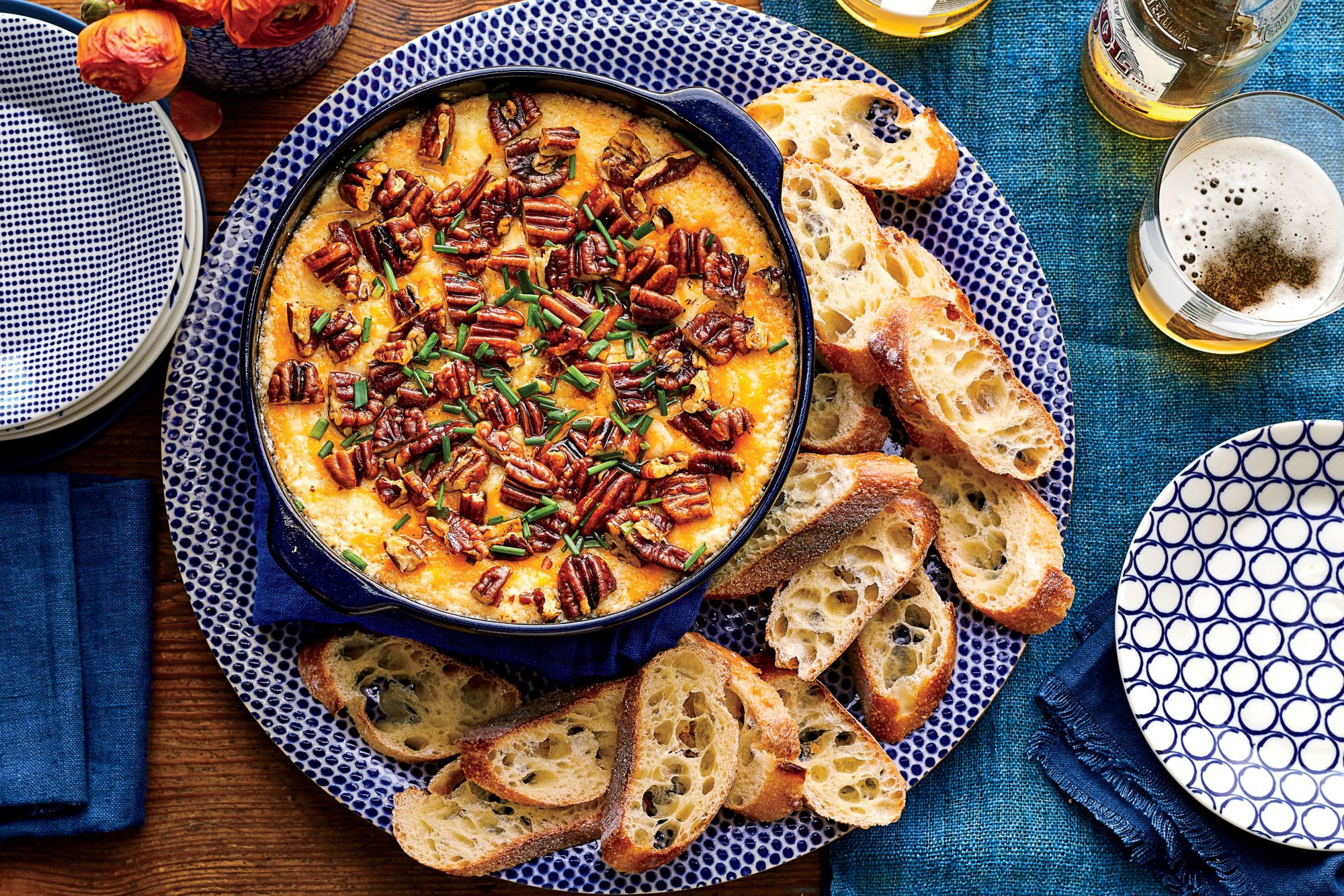 When it comes to comforting recipes that satisfy your hunger and soothe your soul, those that include cheese top our list. From the grilled cheese sandwiches we ate for lunches as kids, to swanky cheesy puff appetizers and savory, cheesy dinner recipes, it's those scrumptious, satisfying dishes featuring cheese that always give us a taste of home.
So whether you're craving a satisfying meal for your family, or want to celebrate a special occasion, try serving up one of these delicious, cheesy recipes. Our collection includes ideas for every course, from starters to desserts and everything in between
Mac and Cheese Sandwich With Braised Short Ribs
This hearty grilled macaroni and cheese sandwich recipe is generously stuffed with mouthwatering short ribs and smothered in lip-smacking steak sauce. It makes the perfect, comforting weeknight dinner on colder evenings, or a treat during a weekend lunch. You'll need leftover mac and cheese and ribs, a skillet or panini press, and just 22 minutes to put this sandwich together. Pair it with a tangy salad of arugula with lemon and parsley dressing.
Scalloped Potatoes With Cheddar Cheese
These scalloped potatoes should be in everyone's recipe book because they're delicious, easy to make and go well with any protein or vegetable. The recipe calls for cheddar cheese, milk, flour, and butter, but you can use any other cheese of your liking. This recipe can be easily made with dairy-free ingredients using vegan margarine, rice milk, and vegan cheese in the same amounts.
Fried Chicken and Waffle Grilled Cheese
We think Elvis would have approved of this fried-chicken-and-waffles grilled cheese sandwich. A little over the top, this checks all the boxes for satisfying, flavorful, buttery, and filling. For a quick version, use frozen waffles, chicken nuggets, and any sliced cheese. But if you have the time and want to knock the socks off dinner guests (or your lucky family), make waffles and chicken from scratch and buy fancy cheese (e.g., fontina, Asiago, or brie). Add a hot sauce and honey blend and grill your sandwich until the cheese has melted. The elaborate version takes one hour to cook.
Cheddar Bacon Puffs
Fancy enough to impress your boss but easy and quick to make in just 20 minutes, these savory, cheesy appetizers are airy little puffs with loads of flavor. Our recipe uses a quick version of a choux pastry dough and adds crunchy bacon and cheese.
Use them as an amuse-bouche with a glass of wine before you serve dinner, or have them as part of a cheese and charcuterie plate.
Apple and Cheddar Stuffed Pork Chops
This main dish is made out of juicy pork chops, stuffed with a mixture of breadcrumbs, diced apple, raisins, and cheddar cheese. Use orange or apple juice with butter to moisten the stuffing, make a pocket in the pork chops to place the stuffing, and bake covered for 45 minutes and uncovered for 20 minutes. The prep time is short, and while the pork chops are in the oven, you can make the rest of your meal by cooking coconut jasmine rice (20 minutes) and tossing some baby spinach with onion salad dressing (10 minutes).
Cheese and Sausage Quiche
Quiches are the perfect main for brunches and tea parties. An all-in-one dish, they just need a side salad to compose a perfect and satisfying plate. Buy a pie shell, make a filling with beaten eggs, sausage, cheese, and hard-boiled eggs, and bake for 35 minutes.
This quiche is very easy to alter: if you don't like pork sausage, use any ham you'd prefer or turkey or chicken sausage. Replace our suggested cheeses with your favorites, and add sautéed veggies for crunch. There is no wrong combination.
Pair it with an endive and pear salad with lime-agave dressing..